Teacher Interview : Ms. Au Yeung, Hong Chi Morninglight School, Tuen Mun

Making good use of e-book's functioning to improve students' language abilities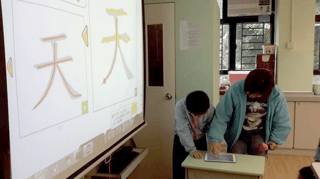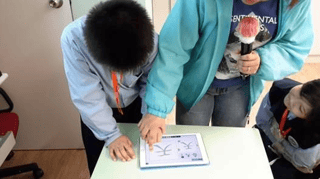 In May, Ms. Au Yeung participated in the "Primary School Middle Management Leadership Training Program" organized by Hong Kong Baptist University. She was awarded the Outstanding Student Award. Aiming at investigating on how the use of interactive electronic textbooks in language curriculum enhances the ability of students with moderate intellectual disabilities to write and read texts, and analyzing the effect of RainbowOne on increasing students' learning effectiveness.


Student's written Chinese characters are significantly more standardized after practicing stroke order on e-books
Based on Ms. Au Yeung's demonstration, she found that the ability of less capable students to write standardized Chinese characters obviously improved, when they first watch the stroke animation, then learn the stroke order components parts by parts. Since practicing stroke order can be done with only fingers, which is not difficult for students with weaker writing or muscle ability, thereby this can boost their self-confidence and their learning motivation.

Ms. Au Yeung points out that, with the innovation of smartphones, students are now more likely to use their fingers on the daily basis. Regardless, it is for their leisure or learning, they can now use their fingers to search for images and videos online. In other words, e-learning, which also allows students to practice their fingers, could also help with their adaptation in the development of technology.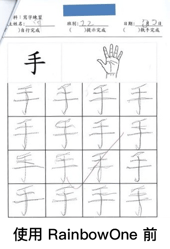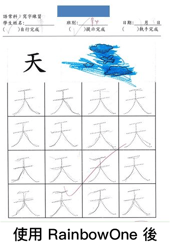 The "read aloud" feature in e-books improves pupils' reading abilities
Teachers can also use the RainbowOne's "read aloud" function to play text recordings in class. Not only students can see clearly the text and pictures through the projector, they can also listen to the words. Usually, at the end of class, most students would be able to read texts on their own. Some may even take the initiative to lead the other students to read. This shows that their ability to read is greatly enhanced. Ms. Au Yeung found that students are particularly interested in electronic products with vocal functions. They would often trace the voice of the recording and guess who the teacher was.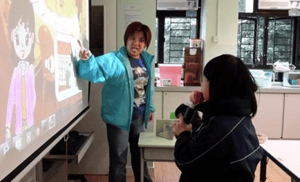 Advocating e-learning in schools
Ms. Au Yeung said that in order to implement e-learning at schools, schools require to work closely with the IT colleagues. Such as arranging for tryout for colleagues and provide immediate support. Moreover, teachers must establish effective communication among themselves. For example, teachers can arrange sitting each other's lessons and exchange ideas, so to drive the development of e-learning in schools forward.