Abundant teacher and lesson tools for you, e-classroom management is easier than ever. Student performance can be reviewed quickly, feedback to student is efficient and accurate.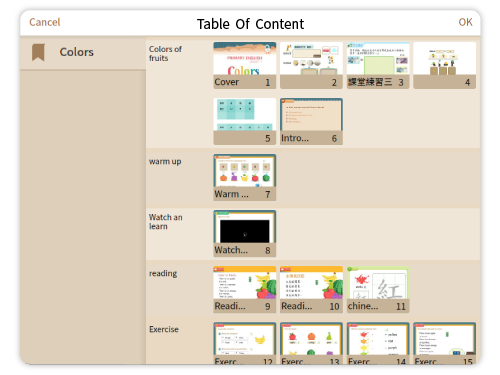 Table Of Content
Control what you want students read
Divided into chapters for easier navigation

Sync pages
You can set teacher and student page sync method
Includes: Full (Student cannot turn page), Semi (Student can turn page, but are also directed by teachers, None)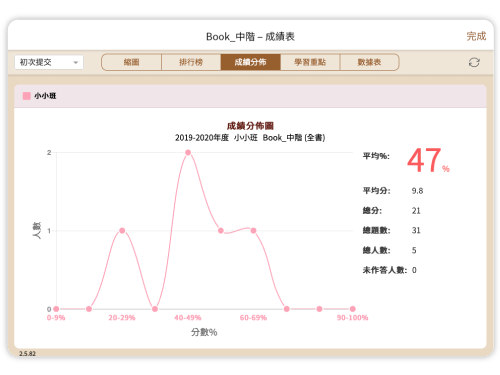 Report
Review student answer thumbnails and instant question statistics
Chapter ranking, score distribution chart and objectives analysis chart
Data table show performance of each student and each question, including each page reading time. Data can also be exported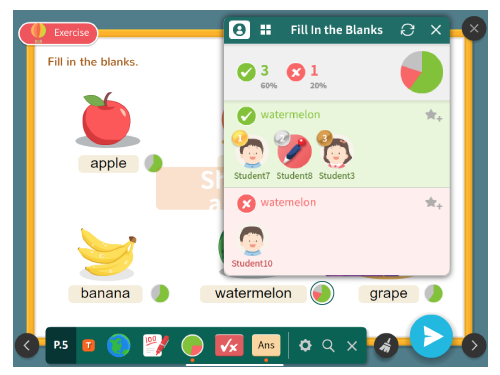 Statistics Pie
When you turn on this tool, pie charts appears beside every question, displaying results of them. This lets you quickly view performance of students
Data in pie chart is updated instantly
When you click on the pie, a popup shows the detail of student answers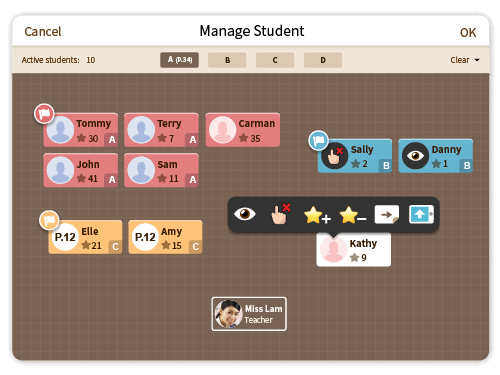 Students
Divide students into different groups and assign roles within the group instantly
Groups are distinguished by color. Roles in group are distinguished by

alphabet

Perform specific function to groups like Black Screen, Lock Screen, give stars and assign specific pages
Can arrange your seating plan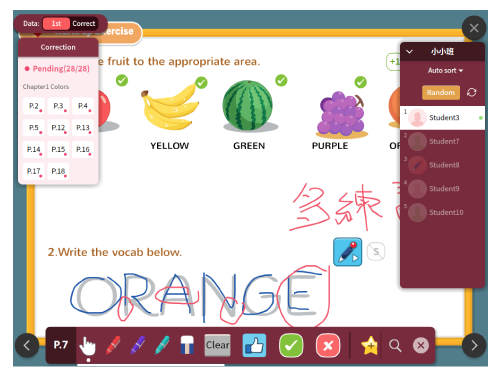 Marking
Review single student answers and insert marking. During lesson mode, other students are synced and they can see the marking
Question with fixed answers will be marked automatically
Open-end questions can be marked manually. You can also mark "correction needed" in these questions
e-Pen with different colours are provided for marking
Can playback students' writing, audio and video
Can give student stars and "Like"
Can export answer data and answer media
Auto highlight questions that requires correction. Students can also see these highlights
Student list can be arranged according to class number, score and time of submission
Can randomly choose a student to display
Provide a list of pages that requires correction.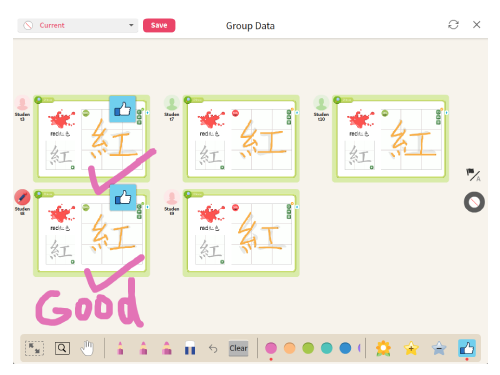 Group Present
Display multiple students' answer by group or role in group
Can be used for groups to present after discussion
During presentation, e-Pen can be used to draw across student screens
These e-Pen records can be saved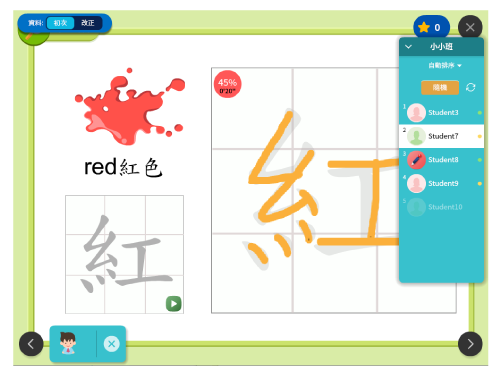 Peers Review
Teacher can turn on this peers review function at wish
Students can review the answers of other students and give "Like"
Student can give stickers to other students (will be rolled out in 2021)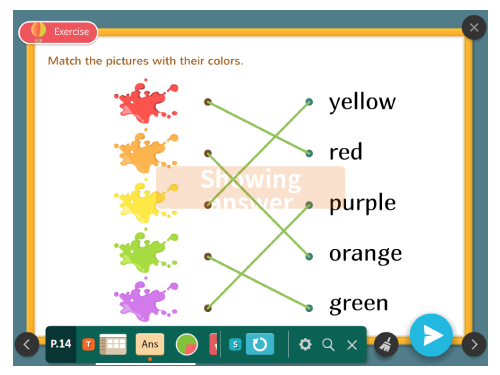 Show Answer
Control student to display the correct answers of questions that have fixed answer
Teachers can also enable this function for students to check their own answer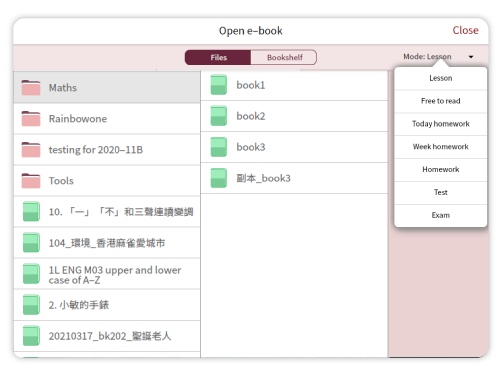 Open e-book
Can change to other e-book anytime in lesson
Can choose the mode of e-book as Lesson, Free to read, Homework, Test or Exam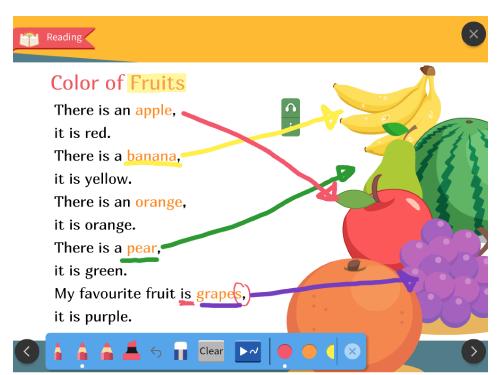 e-Pen
Use to write or draw on the screen anytime
Teachers's writing or drawing can be played back
Provider different colours and thickness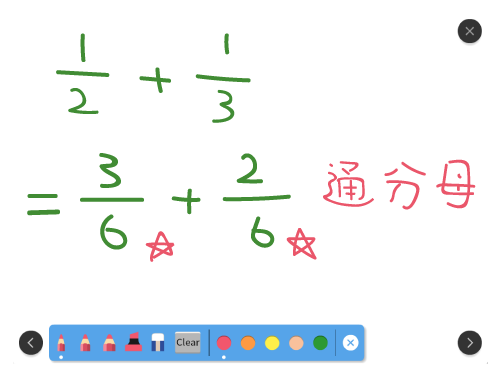 Whiteboard
More space for writing or drawing
No need to switch between Projection screen and whiteboard anymore
Can review students' whiteboard (will be rolled out in 2021)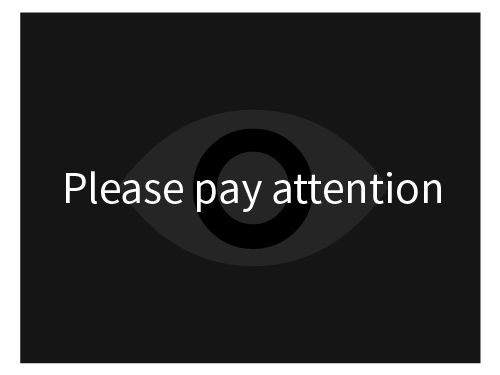 Black Screen
Change student screens to a black image
Let students focus on the teacher's screen or speech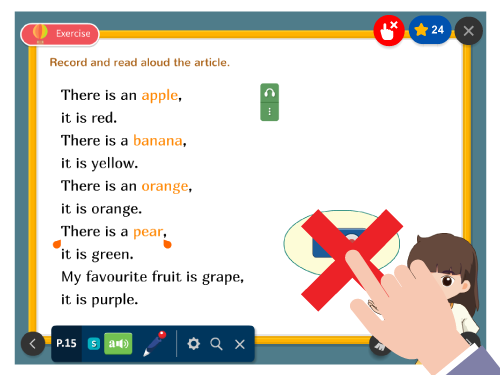 Lock Screen
Students cannot input in the system
But they can still see the content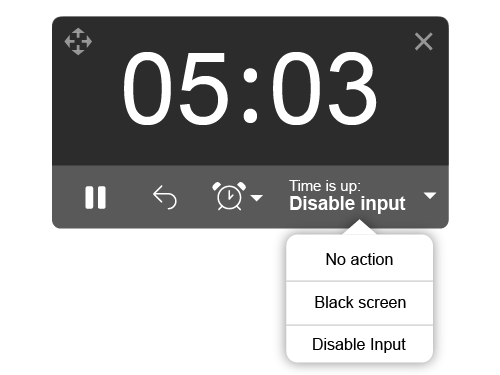 Timer
Timing for exercises, quiz or competition in class
Time will be shown on both teachers' and students' screen. There will be alarm when time's up
Can set the action when time is up, such as No action, Disable students' input or Black the screen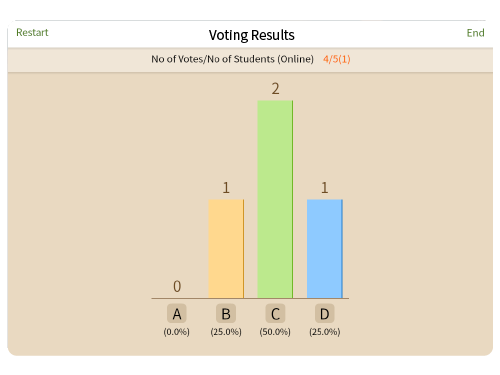 Voting
Students can instantly vote on their device and no need to raise up hands anymore
Voting items such as teacher handwriting, text, camera pictures and student screens
Can choose between 2-4 options
After collecting all voting, system will automatically generate result chart
Can list out the students under each option
Teacher and students can review results at the same time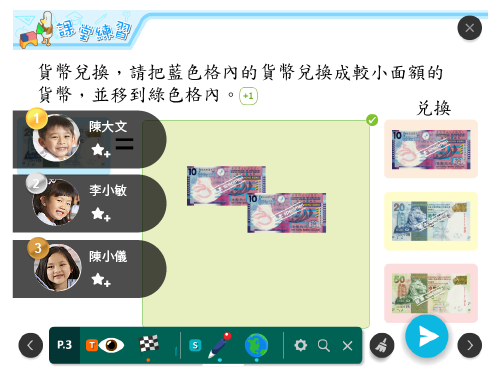 Competition
Change your lesson to an interesting personal or group competition
Turn any question with standard answers to competition.
For Personal Competition, the champion is the fastest one who get all correct answer;
For Group Competition, the champion is the fastest group that the whole group get all correct answer
Teachers can give "Stars" to the 1st three students.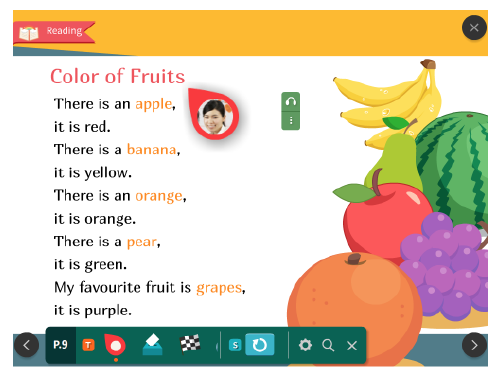 Pointer
Use a large pointer to replace the computer cursor. (Windows / Mac / Android)
Act as a drag pointer for iOS
Help students know more clearly where the teacher is explaining
Sync between teacher and student devices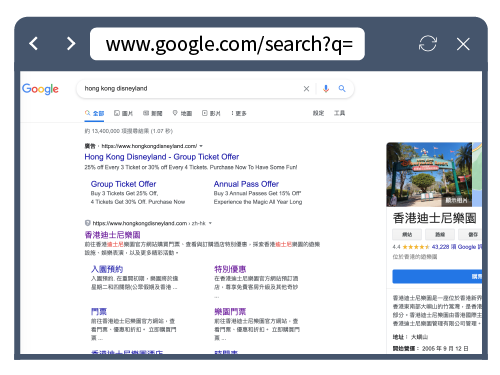 Browser
Browser is embedded for student to search for online information during lesson
No need to switch between browser and learning platform anymore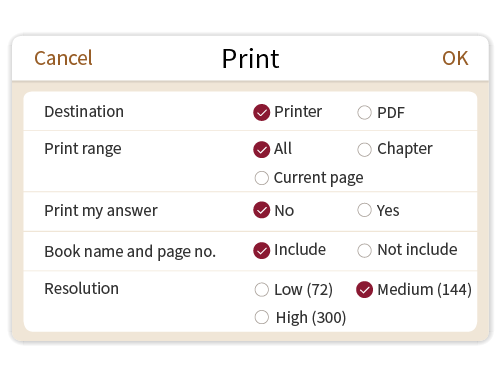 Print
On Windows / Mac devices, you can print the pages with a printer or save pages as PDF. On iOS / Android, you can only save as PDF file
Can set the print range as whole book, whole chapter or single page
Students are limited to use this function on those e-books in Free to read or Homework mode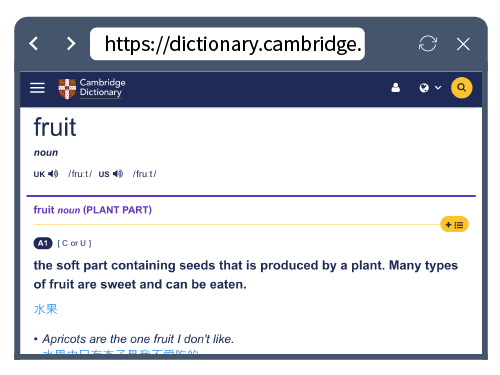 Dictionary
Online dictionary for student instantly look up meaning or pronunciation
Three dictionary can be chosen, Chinese-Chinese, Cambridge and Oxford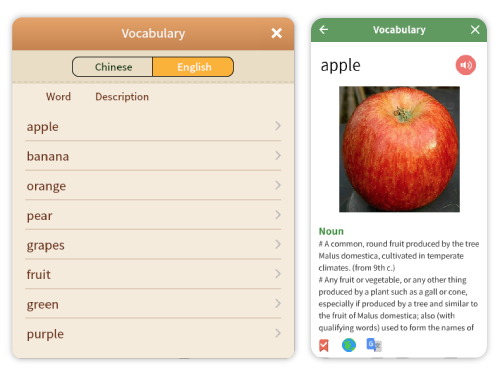 Vocabulary
Can insert any word or vocabulary inside the e-book into Vocabulary Bank
Both teachers and students account have their own vocabulary bank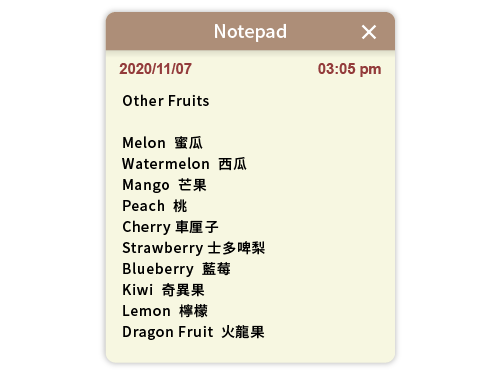 Notes
Students can mark down the key point during lesson
Both teacher and Student account have their own Notepad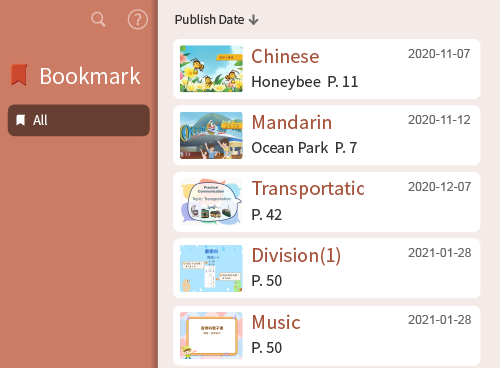 Bookmarks
Can add any page inside e-book into Bookmark
Both teacher and Student account have their own Bookmark
Teachers can also added bookmark to their students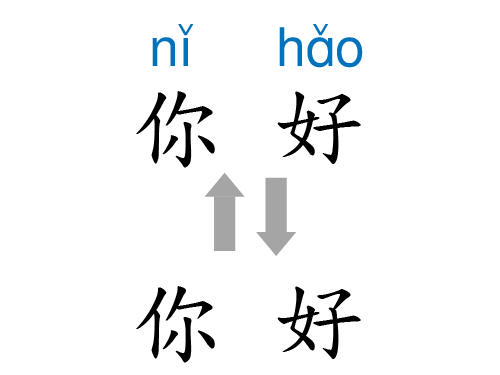 Pinyin
Mainly used with Mandarin Pinyin text component
Can switch to display the Pinyin text above the text or not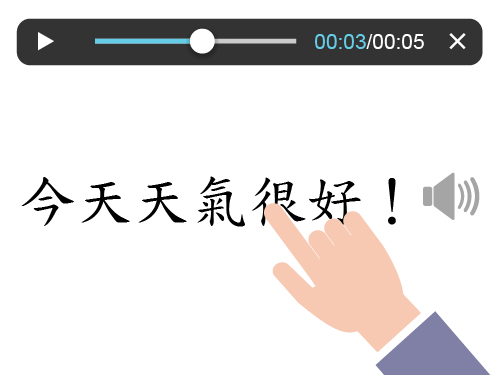 Read text
After turn on this function, when you press any text on screen, the system will generate speech automatically
System detect the language automatically and choose appropriate voices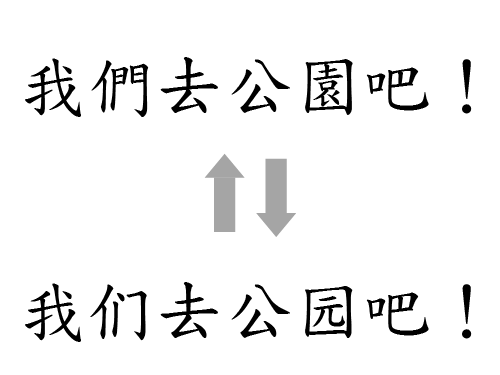 Convert text
All text can exchange between Traditional Chinese or Simplified Chinese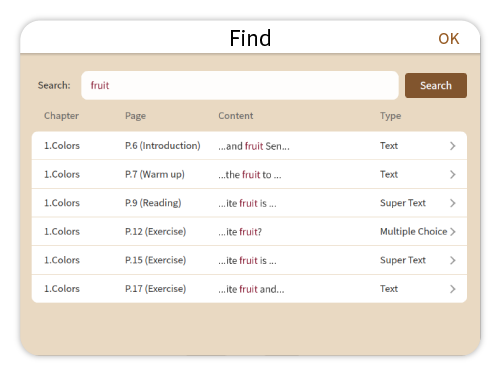 Find
Enter key word to find the location of any related words inside the e-book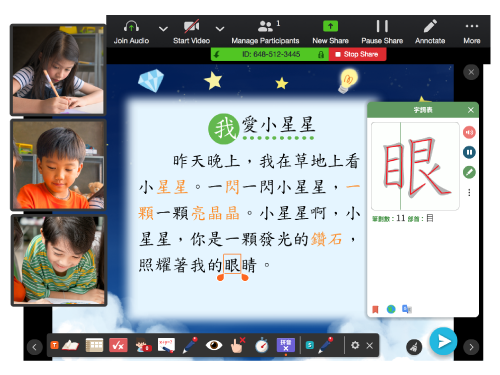 Video Conference
Instant connect to Zoom/Google Meet. RainbowOne can be used simultaneously with this platform
Teacher can open the video tool on its own and all students' device at the same time with just one click
Before lesson, teachers can enter the video URL to quickly connect video software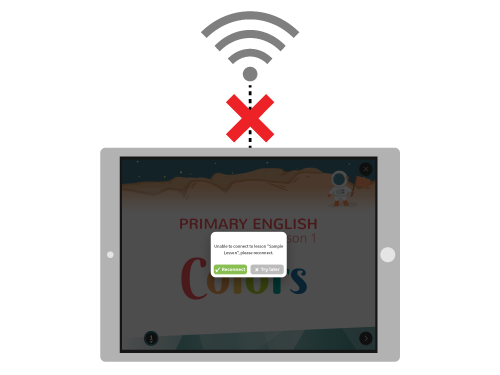 Reload
If you encounter disconnection, you can use this function to reload the screen after re-connection to ensure that teachers' and students' screen are synchronized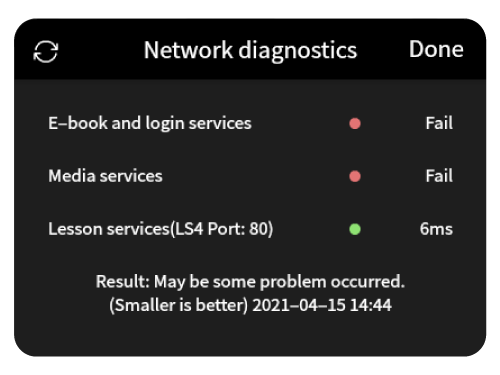 Test Network
If you encounter with any connection problem, open this function to check your network
Green represents Normal;
Yellow represents it can be used but network speed is poor;
Red represents unable to connect network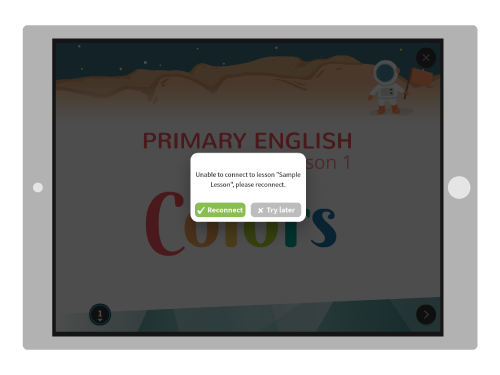 Reset Lesson
If teacher encounter with any problem, just reset lesson
This force all users to leave the lesson, and the system will reconnect automatically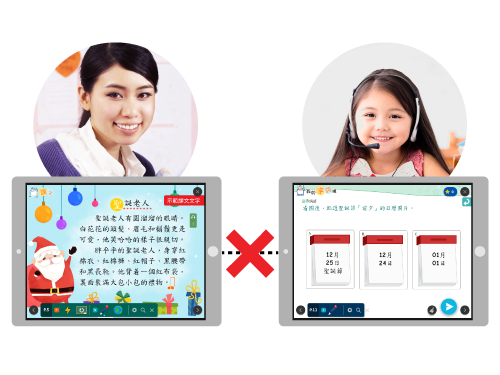 Send Status
If teacher encounter synchronisation issues, use this function to re-send the lesson status to students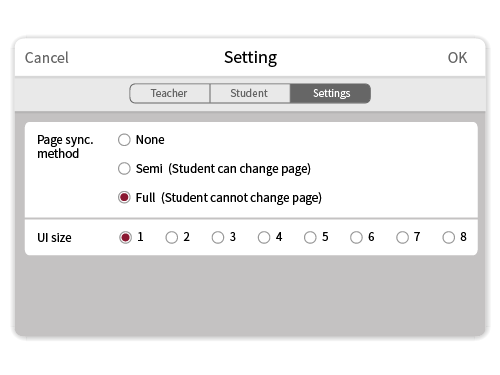 Setting
Both teacher and student can change the user Interface size if needed
Other settings related to lesson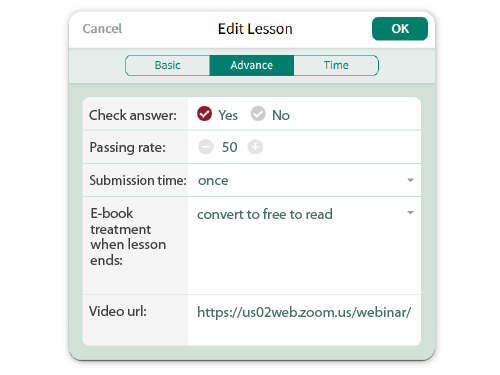 Before lesson
Create lessons and assign them to specific group, for students to connect quickly
Settings for lesson: check answer instantly, passing rate, limit submission times, e-book treat at lesson end, video conference link
Can specify exact lesson time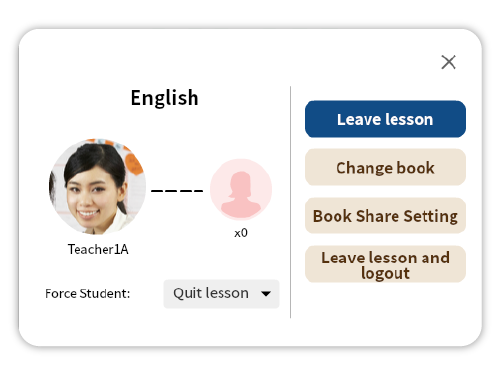 After lesson
Can turn e-book used in lesson into assignments and other types of sharing
Can force students to leave lesson or log out