Teacher Interview: Mr. Sau, Sam Shui Natives Association Lau Pun Cheung School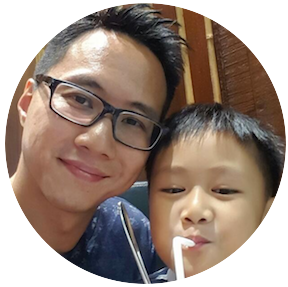 Providing special education learning platform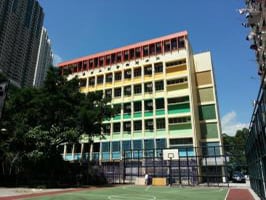 Sam Shui Natives Association Lau Pun Cheung School, a school for students with mild mental retardation, located in Kwai Chung. It is also a resource center designated by the Education Bureau to provide various teaching support for other special schools.
Mr. Sau, the vice-principle of Sam Shui Natives Association Lau Pun Cheung School, has years of educational experience. He has used e-systems in Hong Kong and other countries in the past and has worked with local production companies on a number of occasions to produce e-systems or textbooks for special learning.


Allowing teachers to freely amend teaching content
Vice-principle Mr. Sau believes that mainstream textbooks may not be fully suitable for special schools. And schools may not be able to produce these e-books on their own. "If e-books need to be modified, most of them need to be sent back to the company where those were produced. In which, the company may not be willing to make such small changes, also given that the process of contacting the company is miscellaneous. This tangled process can be avoided by having a platform where teachers can freely make amendments to the teaching materials. This is especially good when there is no need to re-create the resources annually."
​
In fact, it is needed for special schools to implement e-learning. To some extent, e-learning has a positive effect on students with special needs. Assume that schools do not change its curriculum, it seems that using e-learning would be a better choice for most special schools. "Teachers do not have the time, and actually do not need to, make amendments to teaching materials. We promote e-learning for the fact that it upholds the interactive feature of learning. When there is a platform to illustrate its use, which could really bring up the trend of e-learning."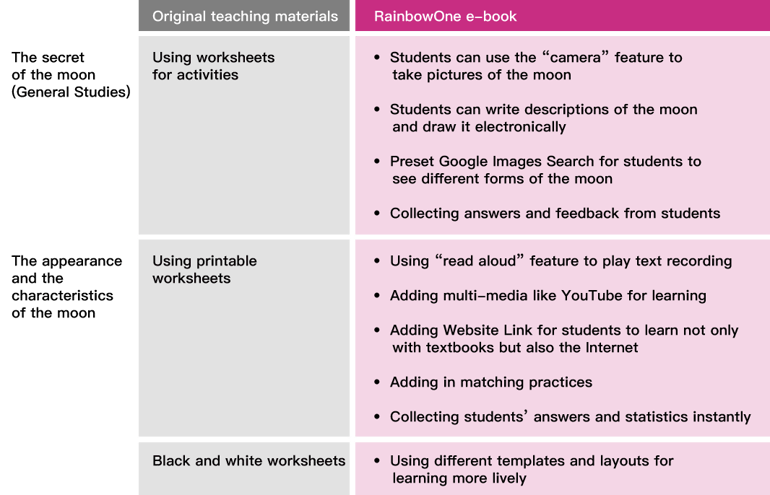 Teachers need teaching materials
Even though some special schools need electronic teaching materials, the cost of producing from nothing is indubitably high. Teachers may not have the time to create their own teaching materials and make adjustments. "Teacher can use different subjects' templates in RainbowOne and make small changes to create teaching materials for teaching. They do not need to waste time on designing the layout which is not a part of their job duty," said Mr. Sau. He actively promotes e-learning within the school and teaches teachers how to produce different e-teaching materials.
​
"Of course it takes time to adapt to the new teaching style and system, but it's not difficult to pick it up quickly like how most of the teachers did." He believes that students' learning interest really increase, but the reason will be further studied on that they like to play or the learning content becomes more lively. Regardless of that, actually multi-media and interactive learning has a positive impact on students.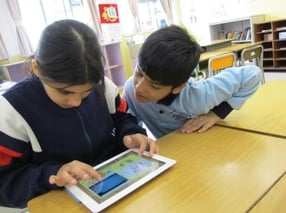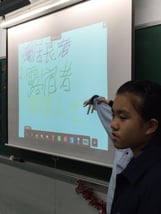 ---
The role of a resource center
Sam Shui Natives Association Lau Pun Cheung School was nominated to be the resource center. One of the reasons is that the Education Bureau hopes to share their successful experiences with other schools. The idea of "sharing teaching recourse" wasn't new. It was well established since more than a decade ago. Yet, due to the rapid development of technology, it is vital to run the resource center following the change. In which, the RainbowOne platform shares a similar conceptual value to us.
The ideal e-learning
"We hope that more schools, especially special schools, could share common resources and exchange e-learning ideas so that the standard of teaching could be improved." Besides sharing e-teaching materials, Sam Shui Natives Association Lau Pun Cheung School is currently working on the students learning assessment system with other special schools. This system is particularly helpful for special schools due to the ability differences between students compared to other traditional schools. "We expect that RainbowOne will be able to integrate currently assessment systems with students' individual differences, to excavate students' personal strengths and talents so that they can contribute to the society.